Tonight Show Water War With Lindsay Lohan!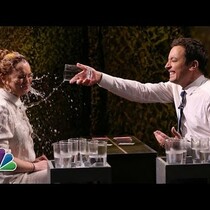 Posted March 7th, 2014 @ 6:27am
I'm so glad to see that Jimmy Fallon brought the Water War game to The Tonight Show! It was one of my favorite things about his late night show...he plays the card version of the game...and when you lose, you get water in the face! This is hilarious as he played with Lindsay Lohan last night!